Spring 2005 InGear
Pedals for Progress is a non-profit corporation devoted to global economic development. It has strived to improve economic prosperity in developing communities through a simple, yet challenging, bicycle collection, shipping, and distribution process. Our organization, however, is much more than biking enthusiasts trying to help others. Over the years we have supplemented our bicycle shipments with other products to help achieve the same economic development goals. And the single most significant item has been the portable sewing machine. Including sewing machines in our bicycle shipments has been a tremendous success and one true success story has involved Profesora Rosa Palacio Hernando.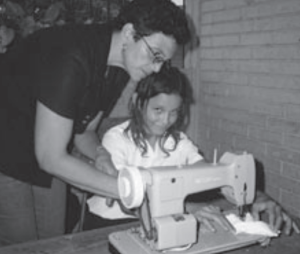 Rosa, a 5th and 6th grade elementary school teacher at the General José Maria Montaya School, in Rivas, Nicaragua, has been sewing all of her life. Rosa is taller than the average Nicaraguan woman, and, while growing up, "store-bought" clothing never quite fit her tall frame. At an early age Rosa's mother taught her how she could alter "store-made" clothing to fit her better and Rosa soon discovered that she had a natural talent for sewing. Initially she took great pleasure in altering store-bought clothing and soon she began sewing her own clothing.
Rosa's sewing activity was always a personal activity, her personal hobby, but that all changed one day when one of her student's parents came to her elementary school and offered working sewing machines to the school if sewing classes would be included in the school's curricula. When Rosa heard this news, she rushed to the administration office where she offered to teach the classes during the day and volunteered to teach community education sewing classes in the evenings.
Rosa now teaches the basics of sewing to 11–12 year-old boys and girls during the day and to adults, as necessary, several evenings each week. The adults who come to the school typically know how to operate the machines, so they use the machines for their own family needs and to produce different items to sell in the marketplace.
For Rosa, this work has become a dream come true. She is able to combine her passion for teaching with her lifelong love of sewing. She originally ventured into teaching because she wanted an opportunity to help make a positive change in her community. She remains dedicated to being a 5th and 6th grade teacher because educating children is the future of her community. But now she gains "extra" satisfaction by teaching sewing to both children and adults, and volunteering her time to keep the donated Pedals for Progress sewing machines fully functioning. Her efforts are very clearly and positively impacting the lives of many people in Rivas, Nicaragua.