by Patricia Hamill
Spring 2013 InGear
It's true. Most high-end products and appliances these days are more expensive to fix than to replace and, though this is an uncomfortable reality, it is one that most Americans have become used to. So, until we can address and rectify this wasteful trend in production, what is one to do with machines destined to be discarded? No one really wants to add to landfills and groundwater pollution even if replacement is the only economical option; but these things can't be stored in a "cloud" like data.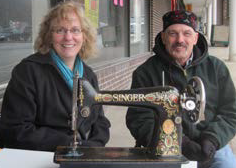 For teachers in the Governor Livingston High School (GLHS) in Berkeley Heights, NJ, this problem became a pressing issue. Because of the high cost of labor in the United States, it became necessary to replace the aging sewing machines in the school's Home Economics class rather than to repair them. It was not, however, an option for the school to simply toss the rejected machines in the garbage. Having heard about P4P's programs and realizing that sewing machines are part of the organization's collection focus, GLHS chose to donate rather than dump their 15 sewing machines.
It is not often that a group, school, or organization is able to support economic development in another country while also ensuring that American students get training in needed skills. While this option became a reality for GLHS, there was still the issue of repairing the machines for use once they found a stopping point at P4P. Mark and Martha Hall represent the unseen portion of the process that gets the sewing machines from rejection and collection to distribution. Martha recalls her initial contact with P4P: "I first learned of P4P when my local YMCA did a bicycle collection in 2006. We had the typical basement full of outgrown and unused bicycles. I brought several over to that collection." When she went to the web site to learn more about P4P's collections and partners, she learned that sewing machines were also in demand. This got her full attention: "I like the idea that unused sewing machines can be put back to good use in teaching young people how to sew and especially to help women set up independent and productive sewing businesses."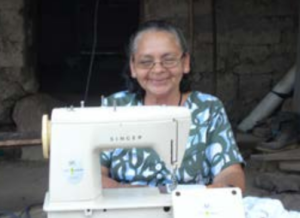 Martha's interest in sewing developed in her Home Economics class as a child, continued into her activities in the Girl Scouts, and evolved into a passion for creating quilts and quilted art. It took some time, but, in 2011, Martha was able to gather her quilters' guild members and schedule a sewing-machine collection. With the help of P4P staff member Gary Michel, Martha and her husband Mark oversaw the event, and, thanks to the participation of the guild members and public outreach, 16 sewing machines arrived to await new homes.
Many of our readers are not privy to the work required after we have finished a day's collecting. P4P is not just a transportation center for bicycles and sewing machines. It is a stop point for evaluation and rehabilitation of the cycles and machines and we take very seriously the importance of providing reliable and lasting goods as well as access to resources for repairing these after they have arrived at our partners' bases.
It was during the above 2011 collection that a casual conversation led to Mark becoming P4P's go-to man for the repairs of donated machines. According to Martha, they established an efficient and thorough process with Mark being the overall repairman and Martha being in charge of cleaning the parts and doing the test runs of finished machines. Ultimately all of the machines are cleaned, their gears greased, and all moving parts oiled. Dried out rubber O-rings are replaced so that bobbin winders run smoothly. New needles are a must. Any machines too far gone to be fixed are used for parts. Finally, each machine is tagged and ready for David or Gary to retrieve them for shipping to waiting partners.
The particular machines from the Governor Livingston High School were destined for a group of women living in the barrio Rosario Tablon in the county of Tenancingo, El Salvador, a country where P4P's partner CESTA has run other environmental programs. Tenancingo (Tenantzincu or the "place of the little valleys") is located north of San Salvador and is counted as part of an extension of the "department" or region of Cuscatlán, created for the Yaquis and Pipil Indians. The twelve years of armed conflict that began in 1980 and engulfed all of El Salvador severely affected this region, causing this county to have one of the highest rates of poverty in the entire country. Of the approximately 7,488 inhabitants, 1,195 people are located in urban surroundings and 6,293 live in rural environs. CESTA's mission is to support the creation of a sustainable economy and improved lifestyle for these people.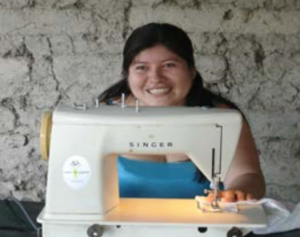 The opportunities for income here are limited and CESTA and the mayor's office of the town work together to generate more options for people in the rural locations of Rosario Tablon, Pepeto, Corral Viejo, and Rosario Perico. Tenancingo is currently best known for its palm plantations and the production of palm hats, which are braided by hand by the women who live in this area and sold in Cojutepeque as well as in San Salvador. There are other opportunities for income generation like ownership of small commercial stores, various types of agricultural activity such as pig farming, and seasonal work, mechanical repair and security services but, just as with any developing infrastructure, there must be economic growth. When the municipal government realized the potential that the influx of sewing machines held, they requested that CESTA increase the number to about 30 with a plan to create small factories for sewing and dressmaking where many women and young people would be employed.
So it is that the ten sewing machines from the 15 collected in New Jersey arrived fully repaired and ready for work in Rosario Tablon, where the group who received these sewing machines constructed a cultural center in which different sewing skills such as embroidery, dressmaking, and tailoring are practiced. The parts of the unsalvageable 5 machines were incorporated into these 10 or set aside for future repairs. Nothing wasted. The people awaiting the future deliveries of machines may never know that their future employment was influenced by the choice of one American school to incorporate global awareness into its own financial considerations.
If our readers had not before comprehended the impact that a few Americans and their seemingly obsolete possessions have had and will continue to have on international economic development, empowerment of women, and skills acquisition for the young, the above system of collection, repair, and distribution hopefully illuminated the tangible contributions of P4P and its partners to this change. For the many of us who did not know who works behind the scenes ensuring that contributions are truly ready for immediate use and long-term continuity, this revelation offers a new dimension to the image of who it is that steps up and gets involved in our mission.
For more information: P4P CESTA page, CESTA home page (Spanish)