by Joseph Matar
Fall 2013 InGear
Pedals for Progress seeks to stimulate the economy of developing countries through its work. This would be impossible without the cooperation and tireless efforts of its partners throughout the world. One such partner is Wright Enterprises, a company that imports consumer goods to Ghana. Working in conjunction with P4P, Wright Enterprises founded WEBike, an organization that, for little to no profit, distributes bikes and sewing machines to those in need of them. Here is a selection of stories of Ghanaians whose lives have benefited from the work of P4P and WEBike.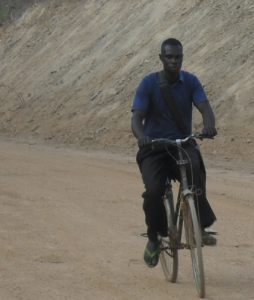 1. Usifu is a student teacher in the small town of Walewale in the Northern Region of Ghana. A limited staff at his school means that Usifu must perform multiple duties. First and foremost, he teaches a fourth grade class. Additionally, before morning lessons begin, the students sweep the classrooms and school compound, a job Usifu must be present for to oversee and provide assistance with. There is a distance of 4 kilometers (about 2½ miles) between Usifu's home and the school. Having to walk made it difficult for him to arrive before the start of classes to complete his duties in time. Furthermore, traveling by foot daily would leave him exhausted, not to mention would cut into the time Usifu, like any teacher, needed to prepare for upcoming lessons. Now, thanks to WEBike, Pedals for Progress' partner in Ghana, Usifu rides a bicycle to and from school each day. This drastically decreases his travel time, giving him more of the time and energy he needs to do his job. He can now get to school on the dot and is prepared and focused every day when he enters the classroom.
2. In some Ghanaian villages, it is common practice for citizens to pursue auto mechanic apprenticeships. It is a worthwhile career track for many people as, once they have become proficient in the field, they can bring their talents to the bigger cities where the need for mechanics can translate into a lucrative job. Paa Joe is a young man hoping to procure such a position. An apprentice in the Suhum/Kraboa/Coaltar District in the Eastern Region of Ghana, Paa Joe must traverse a distance of 5 kilometers (or over 3 miles) to get from his residence to where he is learning his future trade. Formerly, his only transportation option was one very early bus that would get him to his apprenticeship before the workday proper began. If he missed this bus, he was forced to walk. Either approach left him exhausted. After receiving a bicycle from WEBike, Paa Joe became able to bike to and from his auto mechanic apprenticeship every day. Functioning on his own schedule, he is now energized in his work and much more hopeful that he will one day be able to move to the city to begin a profitable career.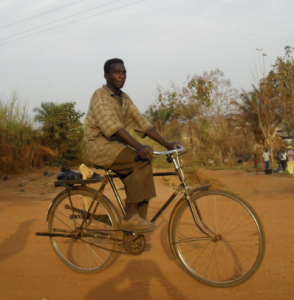 3. Yaw Aboah is a gristmill operator in Kasoa, a suburb in the Central Region. Long work hours and a distance of 3 kilometers (about 2 miles) between his house and his workplace meant that Yaw was often forced to sleep at the mill. Obviously, this was far from ideal as an industrial building hardly possesses conditions conducive to a good night's rest. Worse, however, was that sleeping at work would mean Yaw would typically not see his family for days at a time and, further, often had to spend money on meals away from home. Thanks to the bike he's received, staying overnight at the gristmill isn't even something Yaw has to take into consideration. He is able to bike easily to and from work every day, providing him with a more economical lifestyle and, most important of all, giving him back his time with his family.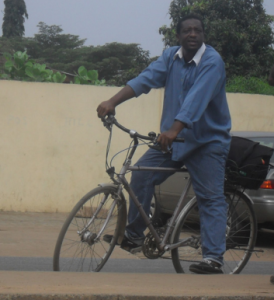 4. Nana Yaw teaches a sixth grade class at the LA Middle School in Nsawam, a town in Ghana's Eastern Region. He lives quite far away in a small village called Ayakwah, on the outskirts of the Nsawam area. Covering this distance daily was a huge issue for Nana, but then he received the gift of a bike from WEBike. He can now go between school and home much faster and with much less effort. He is thankful to WEBike for this, as well as for providing him with the means to perform various errands and to travel around the area with ease.




5. Coming from a poor background, Ama Attah became a seamstress' apprentice, hoping to learn and eventually use the skill to improve her family's financial standing. However, shortly after the completion of her apprenticeship, Ama's sewing machine was one day accidentally knocked from a table to the ground, damaging it beyond repair. As a result of WEBike's intervention, Ama received another, working sewing machine. She is overjoyed that she can now put the sewing skills she worked so hard to learn to use and can make money to support herself and her family.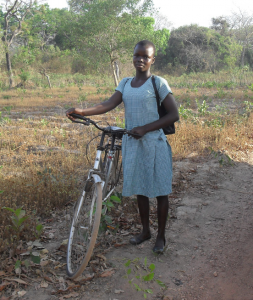 6. Esi is a teenager who lives in a small village in the Nkwanta North District of the Volta Region. She is a student at Nkwanta Senior High School. The school is located so far away from where Esi lives that it would take her two hours to walk there. With the school day beginning at 7AM, Esi had no choice but to be up every morning well before 5 in order to be sure to get to class on time. Furthermore, the road she travels on is frequently a busy one, making her daily trek all the more arduous and slow-going. All of these factors contributed to Esi's fatigue, which was obviously detrimental to her health, especially at a developmental age. It also made it difficult for her to be attentive during school and hard for her to dedicate energy to schoolwork in and out of class. After receiving her bicycle from WEBike, Esi found she was able to negotiate the distance between school and home within an hour, sometimes even managing it in 45 minutes. She is no longer unnecessarily exhausted and is sure to be on time, prepared, and fully alert in class each day.
7. Efoe Kojo lives in Nkwanta in the Volta Region and works as a harvester. Going to and from the field where he works, he had to walk a distance of 6 kilometers (over 3½ miles) in total daily. He also had to carry with him a canteen of water, his lunch, and the machete with which he does his work. This proved to be a serious problem for Efoe as he would repeatedly, upon reaching the field, find himself too tired to do any harvesting. Now that Efoe has his bicycle from Pedals for Progress and WEBike, he is no longer too exhausted to perform his duties. Not only does his bike transport him to work quickly and easily, but, rather than lug his supplies around himself, he can put everything in the bike's basket.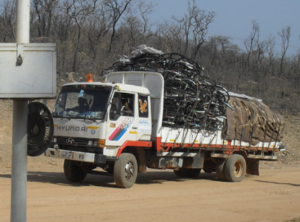 8. The partnership with Pedals for Progress doesn't just benefit those on the receiving end. Joe is an employee with WEBike, distributing bikes around the Kasoa area in the Central Region of Ghana. Thanks to his involvement with WEBike, the people of the Kasoa area now know to go to Joe for reasonably priced bicycles. The money he is making helps him support his family. He is able to afford his rent and pay for any fees that might arise from his children's schooling.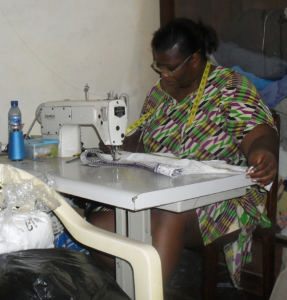 9. In Accra, the capital city of Ghana, there are many boys and girls who, after finishing high school, wish to learn to sew. Maame Yaa is a seamstress who runs an apprenticeship program training young people to be seamstresses and tailors. She would not have been able to offer this education without all of the sewing machines she received from WEBike for the children to train on. With her program as a springboard, many of Maame Yaa's students are able to become self-employed and Maame herself profits from her business, all thanks to the sewing machines from WEBike and Pedals for Progress.