by Margarita Caté de Catú, President of FIDESMA, Guatemala
From December 1999 through 2015, we have received from Pedals For Progress 16 containers with 8,160 bikes and 400 sewing machines, which have directly benefited more than 8,560 people and their families.
The program has brought important benefits to our organization, to our communities, and to the country of Guatemala as a whole.
In San Andrés Itzapa, Chimaltenango, Guatemala, we face many problems: lack of employment, lack of opportunities for women, lack of education about the environment. Children suffer from malnutrition and lack of education and job training.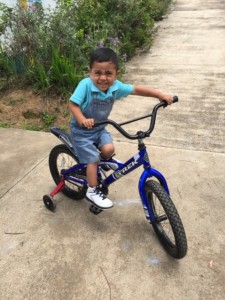 But the FIDESMA/Pedals project gives kids and adults the chance to buy a bike to get around faster to school and to work, and to get some exercise, all without polluting the environment. As we have heard many times over the years, bicycles help people with their jobs. As examples consider the administrative staff of the foundation: a secretary, an accountant, a salesman, and a mechanic. With the help of their bikes, they all earn salaries that support their families.
Likewise our sewing machines benefit many families. Groups of women artisans work every day to earn a living and buy food for their children.
Besides its bicycle and sewing machine programs, FIDESMA generates funds for the maintenance and operation of the organization, for creating jobs, and for supporting social service projects. For example, we run one project for children and young people with disabilities, and another project that provides medical equipment, medicine, and basic food to the project's medical clinics. Another project provides teaching materials to schools.
We also provide support groups for the training of women in areas such as these:
crafts
farming
participatory citizenship
dressmaking
baking
food packaging
welding
Directly and indirectly, FIDESMA has benefited more than 20,000 people across the country of Guatemala, which is why we are grateful to Pedals for Progress and especially its president David Schweindenback for the selfless support extended to us for the last 16 years.
[To see a recent photo album from Guatemala, click here.]