You knew the weekend of June 24, 2017, was going to be action packed when you saw the P4P trailers and parking lot. The Triton 40-foot container had been delivered for our 11th shipment to Albania. The Avis rental truck was ready for the final collection of the spring season. And Dave's Mini and a couple of volunteer vehicles were parked out front.


Sewing Machines to Tanzania
We had collected enough sewing machines for a shipment of two pallets to Tanzania. Our tinkerers Simon Rosenstein and Dennis Smyth had worked tirelessly over the last few months getting the machines into good working order. Several dozen machines were boxed and ready to pack. We had just made the final arrangements with our partner in Tanzania, the She Can Foundation. The Summer 2017 InStitch newsletter has this post about a recent trip around Tanzania by She Can founder Sophia Mwakagenda, a Member of the Parliament of Tanzania.
On Friday, we prepared the two pallets. We stacked the boxed machines on a pallet, leaving room for a couple of sets of the heavy treadle stands. We nestled the treadle stands inside the walls of boxed sewing machines, put a cardboard roof over the treadles, and added another layer of boxed machines. We added some cardboard padding, roped it up, then shrink-wrapped the whole thing into a neat 4-foot cube. We shipped a total of 68 machines in the two pallets.
Bon voyage, sewing machines. See you in Tanzania!
Eleventh Container to Albania
Also on Friday, we pre-loaded 53 adult bikes, 25 kids' bikes, and some sewing machines into the container bound for Albania. The pre-load lets us take care of any special packing before the big push on Saturday. This time we used the pre-load to pack very carefully a handful of spectacular bikes, including that famous carbon-fiber Specialized Roubaix. In the photos you can see that it has its own personal cardboard stall. These bikes will go to people who love cycling and are willing to pay a high price for a special bike. Our partner in Albania, PASS/Ecovolis, will be extremely happy to get some high-end bikes they can sell to help support their programs.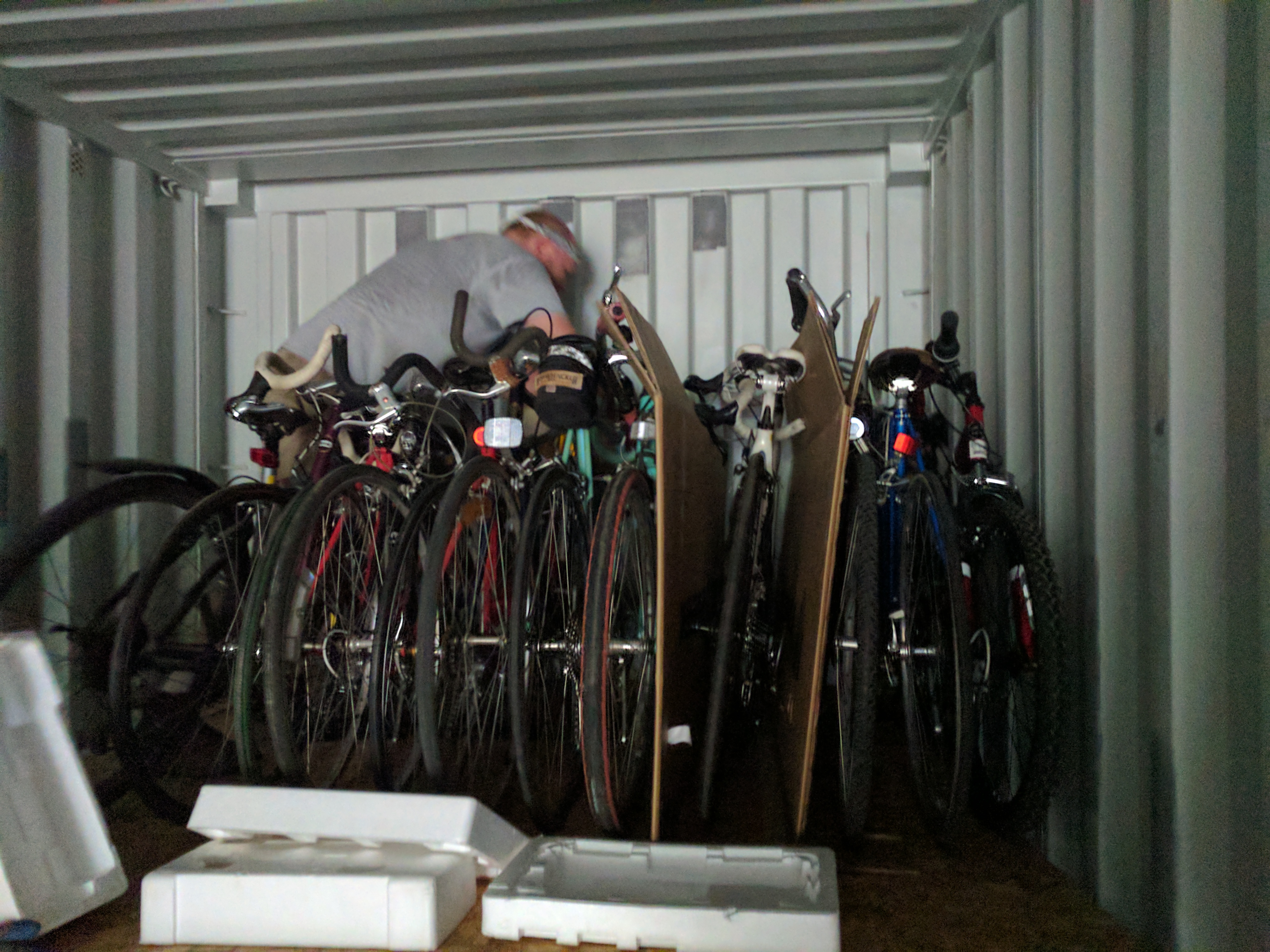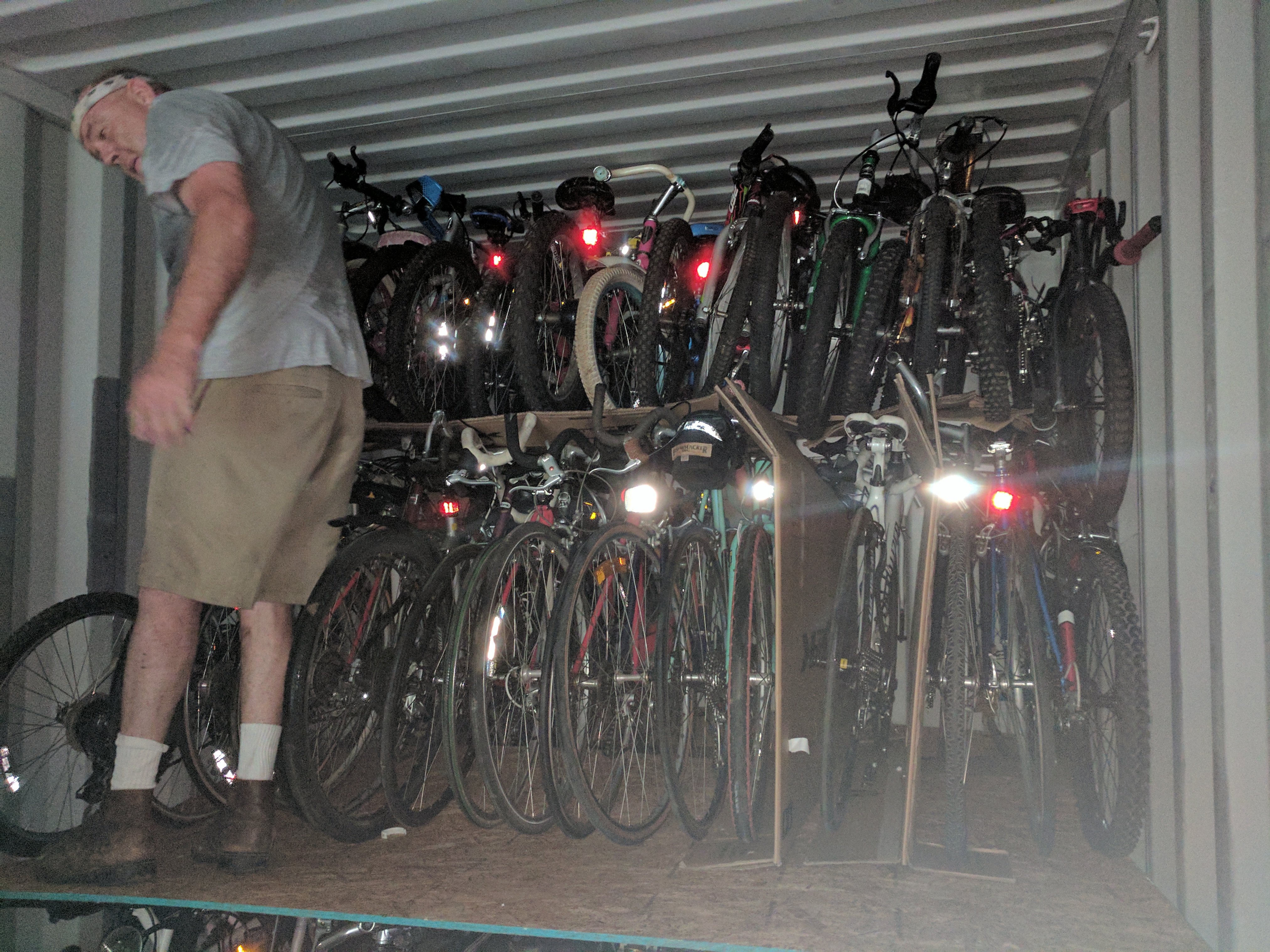 On Saturday, the real loading crew took over and did the hard work. They started at 7am to try to avoid the heat of the day, when the interior of the container attains advanced sauna status. Some sections of the container get three rows of bikes stacked on top of each other: two rows of adult bikes and one row of kids' bikes. To pack the top row, you climb into a sweltering 3-foot niche with the broiling roof of the container blistering your flesh. Then you contort yourself into the most awkward position you can think of and take ridiculously heavy kids' bikes from the person passing them up. Then you push them into position, using hands, feet, and any other body part that proves useful. The idea is always to get as many bikes as possible into the container—the shipping cost is fixed, so every bike adds to the bottom line.
When the container is almost full, we close one of the two container doors and jam in the last few dozen bikes, jig-saw like. Our partners are well aware of our packing methods, so they open the container doors gingerly, hoping not to be crushed by an avalance of bicycles.
The final count for the Albania container: 426 adult bikes, 100 kids' bikes, 25 pairs of pedals, 9 saddles, 12 baskets, 25 helmets, 9 sets of training wheels, 2 bike racks, 4 wheels, 8 tires, and a few other miscellaneous bike parts and accessories, plus 15 sewing machines. That's a full container!
Our Albania partner, PASS/Ecovolis, is one of our most active partners. They have a bike shop and a bike sharing program in Tirana, the capital of Albania. They also have projects in reforestation, childhood literacy and nutrition, and low-income housing.
As for sewing machines, Ened Mato, head of Ecovolis, tells us that they now have extra importance. Partly thanks to Ecovolis efforts in political persuasion, Tirana merchants now must charge a small fee for plastic shopping bags. Yet another PASS group, Trasta o Nona, manufactures fabric shopping bags, using Sewing Peace machines. The PASS shopping bags should sell much better with the new fee on plastic bags.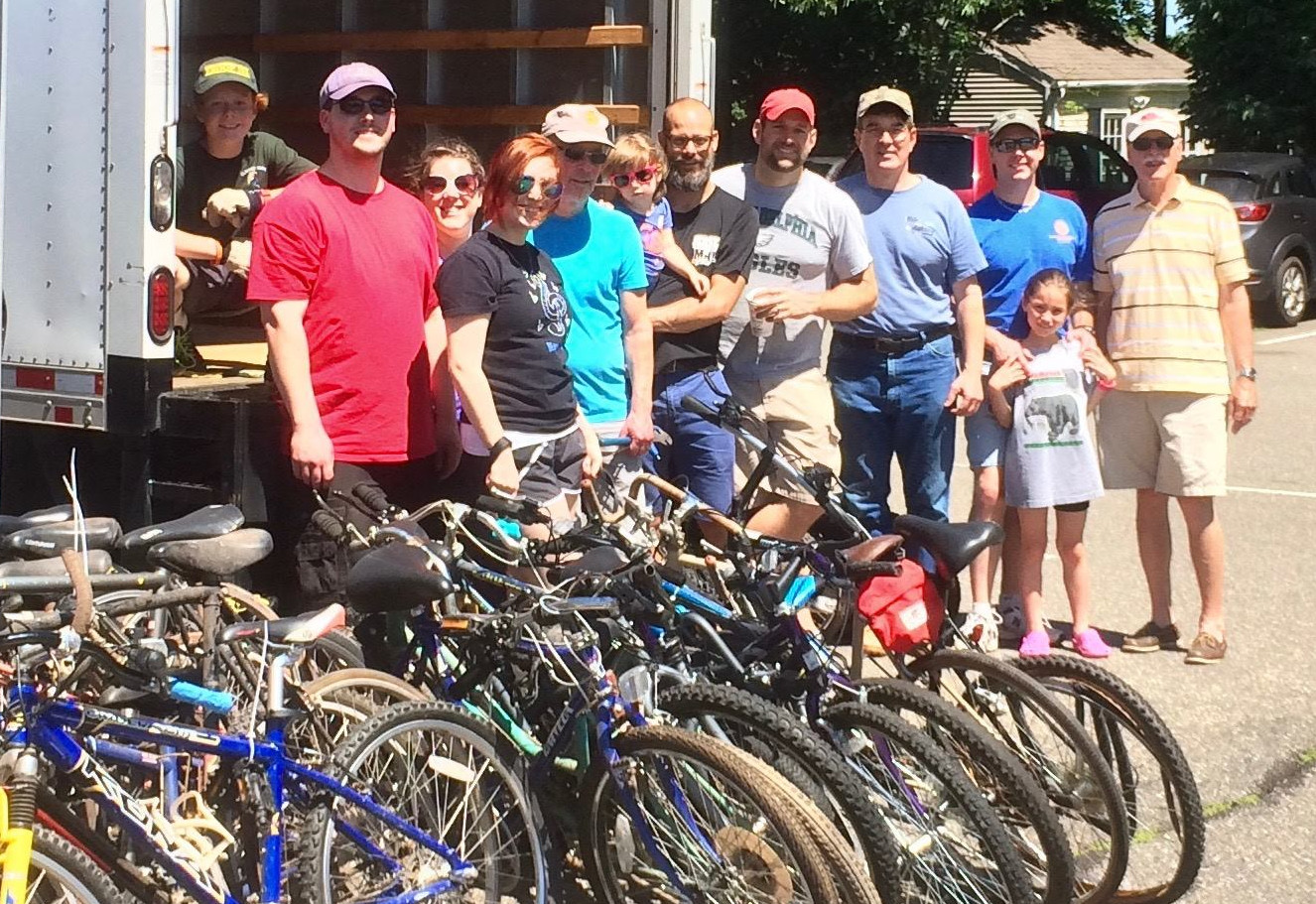 Flemington Collection
While the crew was loading the Albania container, Gary was running the final collection of the spring 2017 season. The Presbyterian Church of Flemington and the Flemington Rotary Club collected 42 bikes and 19 sewing machines.
Summer Break
So that was our big weekend: we shipped 68 sewing machines to Tanzania on Friday, finished loading 526 bikes and 15 sewing machines for Albania on Saturday, and also on Saturday collected 42 bikes and 19 sewing machines in Flemington. Well done all around.
The shipments to Tanzania and Albania emptied the trailers of most bikes and sewing machines, but there are a few left as a start on our next shipments, which we will make later in the year.
Our collections resume in September. Get in touch if you'd like to host one. Have a great summer.