By Patricia Hamill
Fall 2017 InStitch
Unemployment is not an unfamiliar topic these days. Reports on the economy and job growth are broadcast daily with the intention to give us a sense of momentum and hope. What many realize of course is that there is still a dearth of jobs with adequate compensation. Are the openings that are listed truly available or are they only posted because of policy or legalities and already filled internally? As frustrating as this is, people in developing countries don't often have the opportunity to even question if a job is open, or to whom. There may not be any, filled or otherwise. This is the ongoing struggle we've been trying to have an impact on with our bikes and sewing machines, and our partners remind us how much our efforts change lives and futures.
We recently received a letter from Mathew Yawe, Director of the Mityana Open Troop Foundation (MOTF) in Mityana, Uganda, highlighting the success our program Sewing Peace has had in enabling young people and families to combat the devastation that the HIV/AIDS crisis has wreaked in the region. The loss of life to this epidemic has been reduced over the years, but the long-term effects on families and the economy are still quite apparent. That is why this Non-Government Organization (NGO) Mityana Open Troop Foundation has focused on aiding people in creating financial opportunities for themselves. The resulting income allows children to go to school and graduate, and thus be more likely to qualify for steady employment or business ownership.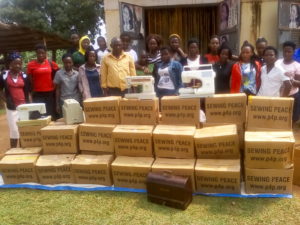 The direct correlation between education and employment and a lowered rate of disease and unplanned pregnancy is evident in much current research. So, of course, access to and use of doctors' services and preventative healthcare is more likely only when one is able to afford the services. As a partner in the cause to fight poverty and its consequences, Sewing Peace shipped 73 refurbished sewing machines to MOTF in July for their vocational workshop in tailoring and design. The project recruits and trains the most vulnerable of the local population in many skills, including tailoring and garment production. The ratio was 1 machine to 4 people. Some of the machines were also made available for program graduates as start-up machines so they could create their own businesses.
In August, MOTF met with 51 residents in the village of Semukombe Mpigi to donate 2 of the sewing machines. The need here is palpable. So often, parents cannot afford the fees involved in sending their children to school. The cost of uniforms, books, and even transportation is prohibitive. The lack of access to proper health education adds to young women being expelled from school because of unplanned pregnancies. There is also the issue of families that lack an adult because one or both parents have succumbed to HIV/AIDS and the children cannot begin to consider any option other than survival.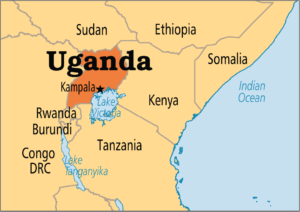 Here, the death of one particular man had greatly affected his two wives. One widow had 6 children. One had 5. The children had all dropped out of school because there was absolutely no income for fees. Access to medication, clothing, and food was all but eliminated. The donated machines would be the only tools these women have to reverse their circumstances and provide a stable future for the 11 youngsters. With care and maintenance, the sewing machines can also become the tools that some of the children can make use of to start their own businesses in the village or in areas like the capital city Kampala, about 22 miles away, where the population is much larger and the demand for school uniforms and other clothing promises a steady income. Ultimately, this kind of program can assist women in avoiding total dependence on their spouses or sons. Husbands and sons can rely on their whole family to participate in maintaining their wellbeing.
As our readers well know, project sustainability is always at the root of the success of an endeavor and MOTF must also consider the longevity of their vocational programs. Thus, some of the machines were sold to local tailors, offered at a fair and more affordable price than one could find in Kampala. These donations from P4P and the reasonable selling prices offered by MOTF are not easy to provide because the cost of shipping to inland locations like Uganda is substantial. Transporting the containers from the port in the coastal city of Mombasa, Kenya, over the approximately 700 miles of road to Kampala, Uganda, is not a simple task. The logistics of viable routes and reliable trucking becomes quite complicated causing the endeavor to cost half again as much money as it would to ship from New York City, through the Panama Canal, past Singapore, to Sri Lanka, and then to Kampala. This extra expense cannot be transferred to those in need, so it is our supporters and volunteers who ensure that no obstacle prevents the machines from getting to their destination.
As always, the effort continues. The private vocational institution MOTF is now looking to expand its program to include embroidery once a reliable machine can be located so they can also provide logos and names of the local schools whose uniforms they sew. With a continued flow of funding and sewing machines for training and sale, the reality of healthy, long lives and income stability in this region of Africa is attainable.