By Mathew Yawe
Fall 2017 InStitch
[Our new partner in Uganda is the Mityana Open Troop Foundation, started as a Boy Scout group but now admitting girls. Their director Mathew Yawe has sent us several reports on their activites in 2017. For more perspective on Uganda in 2017, see the post in this newsletter by Patricia Hamill.]
Report of 29 July 2017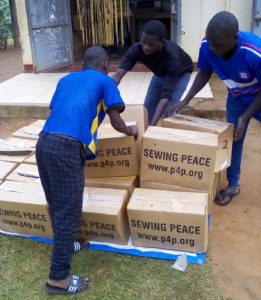 On 24 July 2017 Mityana Open Troop Foundation received 73 sewing machines from Sewing Peace USA. There were manual and electric machines all in good condition and looking so attractive.
Currently we have been lacking sewing machines to be given to our vocational project graduates as start-up tools to enable them to start their own workshops.
Here are our plans for the machines:
23 Machines will be installed in our vocational workshop.
10 Machines will be sold to graduates of November 2017, each for 200,000 Uganda Shillings (UGX): US $55. This money will be used to cater for shipping costs, custom taxes, ECU charges, handling charges, and transport to Mityana. The profits will be used to pay for the next shipment, which we hope to request this year.
40 machines will be sold to the artisans who need them at UGX 250,000 (US $69). Currently a sewing machine in Uganda costs US $83 or more.
Proposed Sewing Machine Workshop In Our Town
We have planed to set up a sewing shop and workshop in our Town of Mityana, where we shall be selling the sewing machines at a cheaper price, carrying out machine maintenance, knitting, making school uniforms, school badges, and embroidery work, as there is no any Embroidery machine in Mityana.
However, at our workshop, we shall be selling and repairing mountain bikes. And our trainees will be trained in how to repair sewing machines and bikes at our town workshop.
The generated funds, will help paying our vocational instructors / teachers.
Expenditures on the Shipped Sewing Machines
Shipping from Sri Lanka: UGX 2,880,000 ($800)
Uganda customs charges: UGX 1,520,700 ($422)
ECU charges: UGX 2,261,000 ($604)
Handling fees by Bolore Co: UGX 470,000 ($130)
Transport from Kampala to Mityana: UGX 140,000 ($39)


---

Total expenditure: UGX 7,271,700 ($1995)
I once again extend sincere thanks to Mr. David Schweidenback of the Pedals for Progress / Sewing Peace project. All volunteers worked so tirelessly in collecting and refurbishing and packing our donated sewing machines. They look so good and attractive. Thank you so much.
I finally thank Mr. Chris Eldridge, our project partner in the UK, who paid all the shipping costs and gave us much support in getting the machines to Mityana, Uganda.
Report of 27 October 2017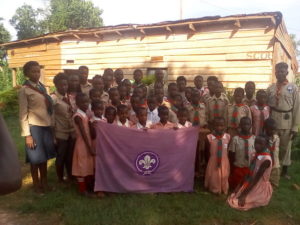 Dear fellow scouters,
Today, 27 October 2017, I have conducted an Investiture Ceremony where 12 cubs, 15 junior scouts, and 8 rover scouts (totaling to 35 scouts) were investitured into the World Wide Scout Movement.
The function took place at the Trio Primary school. The scouts demonstrated marching, performed a flag ceremony, recited the scout promise and scout law, sang, etc.
Long live scouting.


Report of 4 November 2017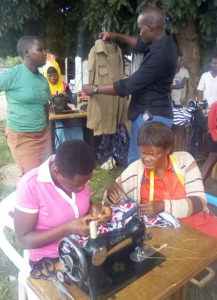 Hi fellow scouters & friends,
Today on Saturday, 4 November 2017, Mityana Open Troop foundation vocational trainees and scouts have volunteered at the Mityana District Police Station: hair dressing, weaving, hair washing, hair styling, hair braiding, and sewing. All the services were free of charge, done towards our vocational project trainee commissioning, due to take place on 18 November 2017.
For that event, we would like to cater for food for 600 guests and for the purchase of start-up tools for the graduating trainees, to enable them to start their own jobs right away.

Report of 18 November 2017 Graduation Ceremony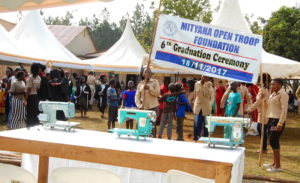 [We got another report from Uganda on the Mityana Open Troop graduation ceremony of November 18th. That report arrived too late for the original publication of the newsletter, but here are some excerpts. Click here for the complete report.]


Achievements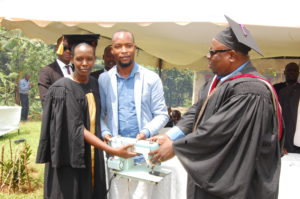 This is our sixth graduation ceremony.
The government of Uganda, through its Ministry of Education, supports our vocational project by giving funds for the instructors. The small fee we charge trainees caters for electricity, maintenance, and feeding, which is expensive.
We registered the vocational project under the Uganda Ministry of Education.
Kolping Mityana Womens project supports our project by sponsoring 10 orphans.
Three Charity organizations — Fields of Life, Africa Renewal Ministries, and Unbound — sponsor some vulnerable children at our project.
With support from profits got from the sold sewing machines from Pedals For  Progress / Sewing Peace Project USA, plus some funds donated from Dr. Knight Anthony of Tools With a  Mission UK, enable us  construct the Girls dormitory which is to accommodate 50 students.
We have been provided with educational seminars by hair beauty companies such as Movit and Darling.
Pedals for Progress donates sewing machines and bicycles to our project, which have up-lifted and supported many of our activities.
Carried out voluntary community work by cleaning and sweeping Mityana Central market, Taxi park, and surrounding streets.
Volunteered in making hair dressing & weaving , sewing clothes for police ladies and police men Of Mityana Police station, at free cost. However, we carry out good turn in communities, as scouts.